Property Details
Living area:
2798617 ft² 260000 m²
Land area:
2798617 ft² 260000 m²
Living rooms:
2
Bedrooms:
2
WC's / Bathrooms:
2
Fireplace
Garage
Field views
Want to Sell?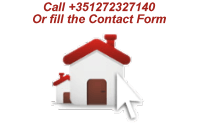 Property Description
Farms For Sale
Castelo Branco | Castelo Branco | Alcains
€ 795.000
Farm with 26 hectares for sale in Alcains, Castelo Branco, Portugal.

With ideal infrastructures and natural conditions for agricultural exploitation and livestock, the farm has several buildings designed to keep and raise mainly sheep and goat herds, but also bovines.

The main lodge has a mechanical milking facility for 24 animals at a time.

In band are other built spaces to protect the feeding of animals, as well as machines and instruments inherent to agricultural activity.

In one of the annexes there is a cheese factory for artisanal cheese production.

The property also has a house with about 60 m² ready to be inhabited comprising two bedrooms, living room, kitchen with fireplace and bathroom, already with electricity, which can be adapted according to the purpose of use.

The farm has abundant water for consumption, irrigation and livestock, from three artesian wells, two wells and a dam.

In the extensive pasture there are several trees, such as cork oaks, olive trees, various fruit trees.

There is also a vineyard with an annual production capacity of 300 liters.

A fully functional alembic allows the production of aquavit.

The access to the property's main entrance is paved, and there are other paths and accesses divided by gates inside the property that allow the separation of cattle between the different grazing areas.

Excellent location for easy access 10 minutes from Castelo Branco.
Water and Energy:
Water Wheel, Artesian Borehole, Bottled Gas, Electricity, Well
Climatization and Insulation:
Fireplace
Security and Accessibility:
Fence, Wall
Extras / Other Features:
Attachment, Attachments for Animals, Garage, Storage, Storage Room, Warehouse, Wood Stove
Environment:
Country Views, Green Areas, Mini Market, Municipal Market, Panoramic Views, Primary School, Trade