Property Details
Land area:
600088 ft² 55750 m²
Living rooms:
1
Bedrooms:
1
WC's / Bathrooms:
1
Fireplace
Double Glassing
Terrace
Field views
Want to Sell?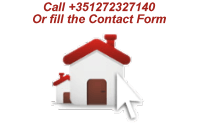 Property Description
Farms For Sale
Castelo Branco | Castelo Branco | Malpica do Tejo
Sold
Farm with 55750 m² for sale in the parish of Malpica do Tejo, municipality of Castelo Branco, central Portugal.

Located in an isolated area, totally surrounded by nature, in the heart of the Tagus International Natural Park.

The farm is partially fenced. Has four ponds that provide abundant water for irrigation, and a rural construction in shale.

The land is exceptionally adaptable to the planting of cork oaks, holm oaks and olive trees.

With several trees such as strawberry trees, willows and Oleaster, scattered among the undergrowth of rockroses and lavender typical of Mediterranean ecosystems.

This place in nature also supports a considerable diversity of animal species, highlighting the deer and wild boar.

Diverse bird species such as the black stork, the Egyptian vulture, the starling and the blue magpie, find here their natural habitat.

In front of the house there is a large covered patio, and on one side there is a covered parking space.

The excellent insulation provided by the thick stone walls is complemented by triple-glazed solar windows.

Electric energy is obtained through a complete equipment of solar panels.

In the cozy interior, a wooden ceiling and a polished granite floor contrast with the stone walls.

For comfort, there is a fireplace, complemented by a small oven, along with a side bench with a stove and kitchen accessories.

If you are looking for a less civilized but more natural refuge, this will be a property whose existing conditions can provide a starting point for farming activities and grazing, as a basis for an alternative and self-sufficient way of life.
Kitchen - Equipment:
Oven, Stove
Water and Energy:
Pond, Solar Energy, Solar Panel
Climatization and Insulation:
Aluminium Frames, Ceramic Floor, Double Insulation, Fireplace with Heat Recovery, Marble Floor, Triple Glazing
Security and Accessibility:
Fence
Extras / Other Features:
Patio, Wood Stove
Environment:
Country Views, Panoramic Views