Property Details
Land area:
134549 ft² 12500 m²
Living rooms:
1
Fireplace
Field views
Want to Sell?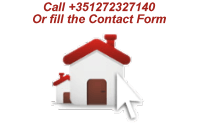 Property Description
Farms For Sale
Castelo Branco | Castelo Branco | Louriçal do Campo
€ 94.000
Farm for sale in Louriçal do Campo, Central Portugal.

Located on the slopes of Serra da Gardunha and close to the Marateca Dam, in a peaceful and rural environment, where you can breathe the fresh air.

It is surrounded by a forest area (mainly pine trees, eucalyptus, among others), with scattered houses and at a walking distance from the village of Louriçal do Campo, by a paved road.

It is connected to the mains water supply network and connections close to the electricity network.

It also has two wells with abundant water, two tanks, several buildings, a large wood oven and outbuildings for animals.

With a main rural building, a haystack, several attachments for animals and annexes for storage of tools and farming equipments.

The upper floor of the main building is subdivided.

On the left side there is a kitchen with fireplace and on the right side, there is a large room.

On the ground floor are three storage compartments.

In the main building, there is a kitchen with a fireplace and two storage compartments.

The property, with 12500 m² of almost flat and fertile land area comprises four articles: three rural articles and one urban.

With the exception of a small pine forest area, it is fully fenced and has three access entrances to its interior, with the possibility of entering vehicles.

Along the farm there is a vineyard, pines and wild olive trees, prickly pears and immense fruit trees: apple, fig, olive, pomegranate, quince, mulberry, various types of citrus, loquat, and others.

Across the road is a long strip of farmland and olive groves.

And also a small pine forest. Several fragrant shrubs such as lavender, rosemary and other mature plants, which can create a beautiful garden in the surroundings of the buildings.

With excellent access, very close to the A23 and national road 18, about 22 km from the city of Fundão and 30 km from Castelo Branco.
Water and Energy:
Piped water, Well
Extras / Other Features:
Attachment, Attachments for Animals, Olive Grove, Storage Room, Vegetable Garden, Vineyard, Wood Stove
Environment:
Coffeehouses, Day Care Centre, Grocery, Mini Market, Primary School, Public Transportations, Restaurants, Trade