Property Details
Land area:
49945 ft² 4640 m²
Living rooms:
1
WC's / Bathrooms:
1
Fireplace
Garage
Field views
Want to Sell?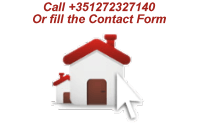 Property Description
Farms For Sale
Castelo Branco | Penamacor | Pedrógão de São Pedro
€ 86.000
Farm with rural construction, dam and electricity, for sale in Pedrógão de São Pedro, Penamacor, central Portugal.

The area of 4640 sqm of good soil for cultivation, almost flat and fertile, is completely fenced and walled, with access through a wide gate, with its entire boundary surrounded by vines.

Particularly noteworthy is a large dam with its own spring and with water throughout the year that allows abundant irrigation.

Next to it is a shelter with an electric pump that allows the supply and storage of water for the large tank next to the main building.

From here, by gravity, it is distributed to various irrigation points throughout the land and in particular to the fertile and well-kept vegetable garden.

Among the olive grove with 17 mature olive trees, distributed over almost the entire land, there are several fruit trees, namely orange trees, apple trees, fig trees, peach trees, pear trees, vines and others.

Electricity is obtained directly from the grid by local connection.

The large existing building intended for agricultural support is in excellent condition, with a semi-new and well-supported roof, and a large storage space, accessible by a gate for vehicles and agricultural machinery.

This space is complemented by a farmhouse kitchen with an open fireplace, a small bathroom and access from the outside to an animal shelter.

Outside, next to the entrance, there is a protected space for a chicken coop and further ahead, a second outbuilding for animals.

In turn, access to the farm is via a dirt road in excellent condition, less than a kilometer from the tarred road.

Located in a peaceful rural environment, close to the village, the farm has easy access to the county seat, Penamacor, just 11 kilometers away: there is a diverse local commerce, schools and a wide range of services.

Other points of reference are Monsanto, the most Portuguese village in Portugal, 20 kilometers away, and practically at the same distance of around 40 kilometers, around half an hour's journey, are the cities of Castelo Branco and Fundão.
Water and Energy:
Dam, Drip Irrigation, Electricity, Septic Tank, Spring Water
Climatization and Insulation:
Fireplace, Simple Glazing
Security and Accessibility:
Fenced, Walled
Extras / Other Features:
Attachments for Animals, Garage, Poultry House, Stable, Storage Room, Vegetable Garden, Warehouse
Environment:
Coffeehouses, Country Views, Grocery, Panoramic Views, Restaurants, Trade