Property Details
Total area:
333681 ft² 31000 m²
Land area:
333681 ft² 31000 m²
Field views
Want to Sell?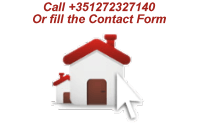 Property Description
Farms For Sale
Castelo Branco | Castelo Branco | Escalos de Cima
€ 48.000
Farm with 3,1 hectares of produtive farmland, for sale in Escalos de Cima, Castelo Branco, central Portugal.

The property is mostly walled in granite stone, with some fenced areas, and with access through two entrances.

Despite its rural setting, the farm is excellently located, less than a kilometer to the village with easy access through a flat and in good condition dirt road.

In the terrain configuration, two distinct areas are clearly visible: next to the main gate, a dominant frontal area, especially suitable for cultivation, where is an annex with two divisions for farming support - one for a haystack and the other for storing tools and utensils.

This flat land, exceptional for farming, has a small shoal on its front where a pond allows rainwater harvesting for the irrigation.

Further back, away from the main path, close to a sheltered entrance and more out of sight, there are some large centenary trees, among which some cork oaks stand out.

These not only provide ample areas of shade, protecting from the heat on the hottest summer days, but also give privacy to the space.

This more secluded area is ideal for leisure as well as for parking and/or to install a movable house.

Appreciated by the vast surrounding granite wall and its accessible location, with easy access to the village, it shows good potential for valorisation, in particular due to the possibility of capturing groundwater through the investment in an artesian borehole.
Water and Energy:
Pond
Security and Accessibility:
Walled
Extras / Other Features:
Haystack
Environment:
ATM Machine, Coffeehouses, Country Views, Green Areas, Grocery, Health Center, Mini Market, Parks, Pastry Shops, Pharmacy, Primary School, Restaurants, Trade