Five bedroom apartment with garage, with 205 m2 of gross floor area and 191 m2 of...
Village house in granite with 17 divisions and total area of 227 m2 with yard wit...
Fantastic farm with villa and swimming pool for sale in the municipality of Idanh...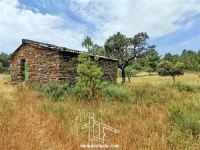 Small farm with rustic and urban areas for sale in the parish of Benquerenças, 5 ...
Villa with 5 rooms, terrace, garden and garage for sale in the village of Alcains...
4-room, two-storey villa for sale in a village of the municipality of Vila Velha ...