Property Details
Living area:
6189 ft² 575 m²
Land area:
95078 ft² 8833 m²
Living rooms:
3
With heating
Fitted kitchen
Pantry
Wardrobe
Pool
Fireplace
Air Conditioning
Furnished
DSL / Internet
Balcony
Terrace
Garage
Parking
Field views
Energy Efficiency C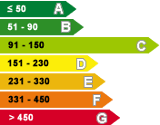 Property Description
Farms For Sale
Castelo Branco | Castelo Branco | Sobral do Campo
Sold
Splendid Farm near the Gardunha Mountains, located in Sobral do Campo, county of Castelo Branco.

With 8833 sqm area and Commercial/Touristic and Agricultural usefulness.

With Restaurant, Bar and Party Hall. Natural scenery of great beauty in perfect harmony with the rural world.

Characteristics: Company Water, Electricity, Telephone, Internet, Satellite TV, water borehole, Gas Installation; 1000 sqm private parking, 280 sqm Party Hall with capacity for 200 customers, 100 sqm Bar and Tea Room, Mini-golf, Children´s Playground, Enclosure for animals, 100 m² Bar and Tea Room with 100 sqm, farmhouse with 50 sqm, WC, 3 bedrooms, Fireplace with 21 sqm, Kitchen with 25 sqm, secondary kitchen with 20 sqm, 72 sqm Garage for 3 vehicles, 28 m² covered warehouse, firewood larder with 6m²; Water storage tank, Stone esplanade with BBQ and 32 places; "Esplanade of the Lakes" with 40 places, with Bar; "Esplanade of the Fountain", bar with 40 places; 1,5m deep ecological swimming pool with 190 sqm water mirror, children area, plants, waterfall, showers, ornamental lakes with fishes and plants; Fountain with artificial water circulation system; Olive grove with around 100 Olives trees; Different grove: Cork oaks, Palms trees, Gentle Pines and several fruit trees.
Kitchen - Equipment:
Combined Refrigerator, Cooktop, Dish Washer, Electric Oven, Freezer, Larder, Laundry, Microwave, Oven, Pantry, Range Hood, Refrigerator, Stove, Washing Machine
Bathroom Facilities:
Bathroom with Natural Light, Bathroom with Window, Bathtub, Bathtub Enclosures, Poliban, Poliban Enclosures, Private Bathroom
Water and Energy:
Automatic Irrigation, Electricity, Generator, Public Water Supply, Sanitation, Sewers
Climatization and Insulation:
Aluminium Frames, Blinds, Central Heating, Fireplace, Fireplace with Heat Recovery, Shuttering Panels
Security and Accessibility:
Alarm, Automatic Gate, Fenced, Fire Detection, Interphone, Video Doorman, Video-Surveillance, Walled
Extras / Other Features:
Attachments for Animals, Balcony, Bedroom Balcony, Ceiling with Spotlights, Closed Balcony, Garage, Garden, Garden Lighting, Grill / Barbecue, Living Room Balcony, Outdoor Lighting, Privat Parking, Storage Room, Swimming Pool, Terrace, Warehouse, Wood Stove
Environment:
Car Parking, Country Views, Green Areas, Highway Access, Panoramic Views, Playground