Five bedroom apartment with garage, with 205 m2 of gross floor area and 191 m2 of...
Village house in granite with 17 divisions and total area of 227 m2 with yard wit...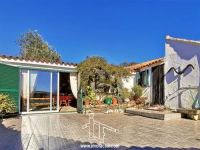 Farm with 5670 m2 with furnished and equipped rustic house, for sale in the munic...
5 bedroom villa with garden and garage for sale in Castelo Branco, central Portug...
Fantastic farm with villa and swimming pool for sale in the municipality of Idanh...
Off-grid farm with 3,9 hectares for sale in the municipality of Vila Velha de Ród...