Property Details
Land area:
339063 ft² 31500 m²
Mountain View
Want to Sell?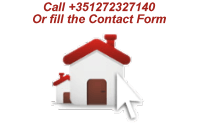 Property Description
Farms For Sale
Castelo Branco | Penamacor | Penamacor
Sold
Beautiful farm for sale in Penamacor, county of Castelo Branco, Portugal.

Facing south, with 3,3 hectares of land, surrounded by granite stone walls and oak wood, suitable for permaculture project or for agrotourism.

Ideally located next to the asphalted road, 3 km from Penamacor and with magnificent views to the sunrise and sunset.

Quiet and reserved place, near a small mountain with an archaeological Chalcolithic site or from Copper Age.

Fertile soil, with 100 olive trees, 50 oaks, pines, eucalyptus and thorns, various fruit trees and aromatic herbs.

130 meters deep borehole, all year water plenty at between 6-8 meters deep, a double pump, everything with legal papers.

Public water supply at the farm entrance requiring only connection.

Two old mills / oil presses hewn in the rock and two superadobe buildings one finished and the other unfinished to complet or as additional building materials supply.

Feasibility to obtain a building license. Electricity connection about 300 meters away. One half of the farm is surrounded by a strong restored stone wall, and the other half with oaks and fences.

About 2 hectares of fertile land (in some areas were sown Lupinus luteus as foundations), about 100 hectares of olive trees covering about one hectare (annual olive oil production between 50 and 100 liters), 50 old and productive cork trees, lastly cork each year 2015 and with next Entrindung for 2024 planned.

Over 30 other cork trees with native cork, ready to take.

Several oaks in the entire farm, forming small forests.

About 30 large pine trees and 30 eucalyptus trees ready to cut, for timber supply.

Various fruit trees including figs, cherry trees, apple trees, lemon trees, tangerine trees, peach trees and quince trees.

A small vineyard and spice plants: rosemary (white, pink and purple), wild lavender, cat mint, violet, white thyme, wild thyme, marjoram, whitethorn, aloe, dogrose, wild asparagus and various edible fungi (Macrolepiota procera, Terfezia arenaria).

Other wild herbs (St John/s wort, Lithodora prostate, smaller Sanguisorba, bloodworm).

Around the farm were also planted opuntia ficus - indica - cactus fig, as fruits and as water bodies.

Other wild herbs (St John's wort, Lithodora prostate, smaller Sanguisorba, bloodworm).

Around the farm were also planted Opuntia ficus - indica - cactus fig, for fruits and as a water body.

The farm has still a wide and round stone fireplace and two old mills carved in the rock (possible old wine or oil mills) and other interesting forms carved in granite.

Available are topographical maps on paper or in digital support, useful for permaculture planning or to carry out the water pipelines.

About the region: the county of Penamacor in Beira Baixa is located south of the Serra da Malcata, east of the Serra da Estrela and more to the south are the mountains of Gardunha.

275 km from Lisbon and 270 km from Porto. 3 large cities nearby: Castelo Branco - 50 km; Covilhã - 45 km; Fundão - 35 km.

Interesting places to cool in summer and historical places to visit: Meimão Dam, Meimoa Dam, Penha Garcia, Idanha-a-Velha, Dam of Idanha-a-Nova, Rapoula do Côa, Castle of Sabugal, Sortelha, Termas do Cró (Cró thermal baths), Termas de Monfortinho (Bathing resort Monfortinho).
Water and Energy:
Artesian Borehole, Generator
Security and Accessibility:
Fenced, Walled
Environment:
Country Views, Mountain Views