Property Details
Land area:
382625 ft² 35547 m²
Field views
Want to Sell?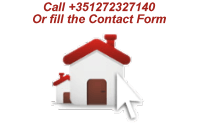 Property Description
Farms For Sale
Castelo Branco | Castelo Branco | Castelo Branco
€ 70.000
Farm with 35547 square meters, with renewed farm house and attachment, for sale in central Portugal, 15 minutes from Castelo Branco.

Totally flat land, with great sun exposure. Drop-by-drop irrigation system installed in the field, powered by an automatic electric pump that extracts water from one of the two wells, facilitating farming practice.

The farm has two buildings: A recent construction for storing agricultural equipment and utensils; another stone construction with 22 m², old farmhouse recently renovated.

Alongside is a large waterwheel pit. Fertile land with about 320 olive trees, which allow the production of more than 2 tons of olives per year.

Various fruit trees such as pear, peach, orange, lemon and plum trees, vines and diversified vegetable garden.

The access to the farm is made via a tarmac road.

From the paved road at the entrance to the farm, there are about 150 meters dirt road.

Connection to the electricity network at about 250 meters.

Located near the town of Lardosa, with easy access, 20 minutes from Castelo Branco and about 5 kilometers from the access to the highway.
Water and Energy:
Water Wheel, Drip Irrigation, Well
Security and Accessibility:
Fenced, Walled
Extras / Other Features:
Attachment, Olive Grove, Orchard, Vineyard, Warehouse
Environment:
ATM Machine, Coffeehouses, Country Views, Day Care Centre, Grocery, Mini Market, Restaurants