Property Details
| | |
| --- | --- |
| Total area: | 98221 ft² 9125 m² |
| Land area: | 98221 ft² 9125 m² |
Want to Sell?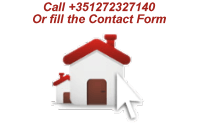 Property Description
Land / Plots For Sale
Castelo Branco | Castelo Branco | Lardosa
€ 32.300
Excellent farmland with 9125 m² for sale in the village of Lardosa, municipality of Castelo Branco, central Portugal.

The land is partially inserted within the urban perimeter of the village, presenting different characteristics in its longitudinal ends: one of them, more isolated, borders a rural path, with good access on dirt road, and the opposite, crossing a significant part of the village, ends next to the tarred road of one of the urban arteries, in the heart of the housing building area.

At this point, the land is within the urban perimeter, therefore presenting feasibility of construction for single-family housing, subject to prior request for information from the municipality of Castelo Branco.

Connections for the supply of mains water and electricity are located next to the entrance.

This property thus presents a great potential for appreciation, which results not only from the building viability but also from the productive value of its considerable land extension, completely walled and fenced in almost one hectare.

Throughout its shape, flat and rectangular, there are several olive and fruit trees: fig trees, pear trees, lemon trees and orange trees.

The land, fertile and well maintained, allows for easy irrigation through two wells, one with persian water wheel, and a large pond with a spring.

A stream, still with abundant water in August, cuts across the land.

In the background, the access to the rural path is made via a wide entrance in the old granite wall, next to the old well with the waterwheel.

The village of Lardosa is located in the extreme north of the municipality of Castelo Branco, practically equidistant, 26 kms from the cities of Castelo Branco and Fundão and inserted in a rural and mountainous landscape, surrounded by green hills and fertile valleys.

Its location, about two kilometers away from the Dam of Marateca, offers stunning landscapes and a natural environment conducive to outdoor activities.

With around 950 inhabitants, it is known for its tranquility and welcoming atmosphere.

Friendly people, proud of their roots and traditions.

The community of Lardosa is very united and values the customs and history of the village, especially the "Festa de Santo António", the main local festive event, which takes place every year in August, including various activities, such as processions, concerts, fairs and folklore shows.
Water and Energy:
Water Wheel, Brook, Electricity, Piped water, Pond, Public Water Supply, Well
Security and Accessibility:
Fenced, Walled
Extras / Other Features:
Olive Grove, Vegetable Garden
Environment:
ATM Machine, City Views, Coffeehouses, Country Views, Day Care Centre, Grocery, Highway Access, Mini Market, Municipal Swimming Pool, Public Parking, Restaurants, Terraced Cafés, Trade, Train Station