Property Details
Living area:
753 ft² 70 m²
Deployment area:
1206 ft² 0 m²
Bedrooms:
3
WC's / Bathrooms:
1
In repairs
Fireplace
Want to Sell?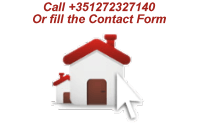 Property Description
Houses For Sale
Castelo Branco | Vila Velha de Ródão | Sarnadas de Rodão
€ 38.000
Partially renovated house for sale in a village in the municipality of Vila Velha de Ródão, 15 minutes from Castelo Branco, central Portugal.

With 70 m² floor area comprises the ground floor and the attic.

The large attic, where a new structure in beams is visible and the renovated roof, given the good ceiling height, has potential to expand the habitable area.

The already started renovation includes the new roof, new frames with double glazing, as well as a new sanitary installation in the bathroom.

The house is located on a plot of land with 247 m², divided between a covered area of 112 m², an uncovered area of 93 m² of the backyard, with entrance through a gate and back access to the house, and an annex with 42 m², with a second kitchen, oven and a small tank once intended to support artisanal wine production.

Good location in the serenity of a Beira village, close to a river beach in the heart of the forest landscape that characterizes the municipality of Vila Velha de Ródão.
Bathroom Facilities:
Bathroom with Natural Light, Bathtub
Water and Energy:
Bottled Gas, Electricity, Piped water, Sanitation, Sewers
Climatization and Insulation:
Acoustic Insulation, Aluminium Frames, Ceramic Floor, Double Glazing, Fireplace, Parquet Floor
Environment:
Green Areas, Highway Access, Public Parking, Public Transportations